Ultra smooth action with 144Hz rapid refresh rate and 1ms (GTG) response time
Featuring DisplayPort, Dual-link DVI-D, and HDMI ports for multi device connections
Built-in 2W stereo speakers for an immersive home entertainment experience
A comfortable viewing experience with ergonomic tilt, swivel pivot, and height adjustment
Ergonomically-designed stand with Tilt,Swivel,Pivot,Height adjustment plus wall-mount capability for comfortable viewing position
$254.54
Schedule of price changes
0,259.00,259.00,259.00,255.99,259.00,259.00,259.00,259.00,255.88,264.39,264.39,259.00,259.00,259.00,259.00,259.00,259.00,259.00,259.00,259.00,259.00,259.00,259.00,259.00,259.00,259.00,259.00,259.00,259.00,255.88
| | | |
| --- | --- | --- |
| Current price | $254.54 | 2017-11-17 |
| Minimum price | $254.54 | 2017-11-17 |
| Maximum price | $264.39 | 2017-09-22 |
ASUS VG278HE 144Hz 3D LED LCD Follow Unboxing & First Look Linus Tech Tips
Newegg TV: ASUS VG248QE 24" 144Hz Up on Interview & Demo
Battlefield 1 ülke ayarlama
SSD Kingston HyperX 3K 120 GB - RAM G.finesse 8 GB 1600 MHz RipjawsX - Sabit Disk Western Digital 1 TB Caviar Blue - Kasa Corsair C70 - Güç Kaynağı Thermaltake Toughpower 775 Watt Modüler - Prepositor ASUS VG248QE - Klavye Logitech G105 - Fare
Asus ROG Sica vs Logitech G102 vs MSI DS100
HyperX 3K 120 GB - RAM G.fly 8 GB 1600 MHz RipjawsX - Sabit Disk Western Digital 1 TB Caviar Blue - Kasa Corsair C70 - Güç Kaynağı Thermaltake Toughpower 775 Watt Modüler - Proctor ASUS VG248QE - Klavye Logitech G105 - Fare logitech G600
Stereo 2W speakers provide for a full sound while eliminating the need for external speakers
FreeSync/Adaptive Sync with 144Hz refresh rate for a tear-free experience with AMD Radeon GPUs
Exclusive Game Visual & Game Plus functions to enhance color performance and control
Marathon ready with ASUS Eye Care Technology to minimize eye fatigue and an ergonomic stand with full height/tilt/swivel/pivot adjustments to accommodate any desk
27" Full HD (1920 x 1080) 144Hz 1ms gaming monitor with ASUS Game Fast Input Technology for a fully responsive gaming experience
$321.81
Schedule of price changes
0,299.00,299.00,299.00,299.00,339.00,299.00,299.00,299.00,380.80,299.00,299.00,299.00,299.00,299.00,299.00,299.00,299.00,299.00,299.00,299.00,354.54,354.54,354.53,362.99,363.66,299.00,355.68,299.00,299.00,380.80
| | | |
| --- | --- | --- |
| Current price | $321.81 | 2017-11-17 |
| Minimum price | $299.00 | 2017-10-14 |
| Maximum price | $380.80 | 2017-11-15 |
Asus VG248QE Reassessment & Rating | PCMag.com
The Asus VG248QE is a 24-inch gaming television screen featuring a 144Hz refresh rate, a lightning fast pixel response, and a highly adjustable stand.
ASUS VG248QE 144Hz 1ms 24" Gaming Prepositor Official Overview
The ASUS VG248QE 144Hz 1ms Gaming Watch is finally here. The VG248QE will of course be available in Q1 in Australia and my word, this is.
ASUS Launches VG248QE 24 Inch 144Hz 3D Gaming Supervise
7200 TL R5 1600 ve GTX 1070 Sistem Toplama
Ben sadece önemini biliyorum çünkü bana zamanında 980Ti alacağım vakitler 1080P önerilmemesine rağmen sıklıkla CS-GO, BF oynayacağım için sorun olmayacağını düşünüp 1080P Asus VG248QE aldım. İlk zamanlar herşey güzel fakat oyun zevkleri
Refer page 10-11 for troubleshooting steps from manual below.
FreeSync/Adaptive Sync technology with 75 Hz refresh rate for a tear-free experience with AMD Radeon GPUs
ASUS Eye Care technology with flicker-free and blue light filter to minimize eye fatigue
1ms response time featuring ASUS GameFast Input Technology and dual HDMI ports for a smooth console gaming experience
Exclusive GameVisual & GamePlus functions to enhance color performance and control
Ergonomic stand with full height/tilt/swivel/pivot adjustments to accommodate any desk
$179.99
Schedule of price changes
0,179.99,179.99,179.99,187.34,179.99,179.99,179.99,179.99,179.99,179.99,187.39,186.40,179.99,179.99,179.99,179.99,179.99,179.99,179.99,187.39,186.40,186.40,179.99,179.99,179.99
| | | |
| --- | --- | --- |
| Current price | $179.99 | 2017-11-17 |
| Minimum price | $179.99 | 2017-10-16 |
| Maximum price | $187.39 | 2017-10-26 |
ASUS VG248QE 144hz 1ms GSync skilful Monitor Review
Hamper out the ASUS VG248QE on Amazon - http://geni. us/1mDb __ ▻ Get 10% off Cooler Master Products at http://bit.
ASUS VG248QE 1ms Gaming Watch After Use Review
NEW UPDATE TO THIS VIDEO: http://youtu. be/0cVnRzQ4jsg.
ASUS VG248QE Criticize - PC Monitors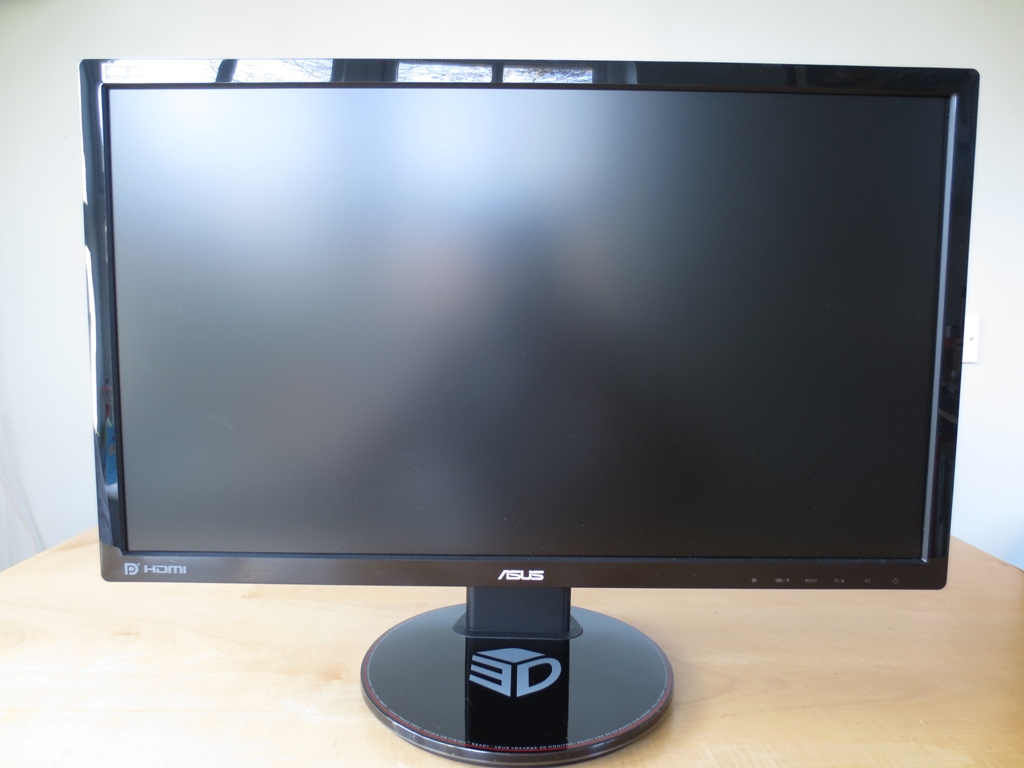 BenQ XL2411Z vs ASUS VG248QE 144 hz Oversee Comparison - Which is best for YOU?
By customary demand, Steen shows us the key differences between the BenQ XL2411Z and the Asus VG248QE BenQ XL2411Z vs XL2420G Video: .
Asus VG248QE
With the , you don't have to responsibility about ghosting, lag, or choppy action. This 24-inch gaming monitor offers a 1-millisecond (gray-to-gray) pixel answer and a 144Hz refresh rate, and it is 3D capable. Its color accuracy is good (not
Nvidia G-Sync supervisor up for pre-order
The Asus VG248QE has been modified to embody a G-Sync module. Scan has just made available for pre-order Asus VG248QE monitors that include Nvidia G-Sync technology. G-Sync is Nvidia's new track technology that aims to eliminate image-tear and stutter ...
VG248QE | Monitors | ASUS USA
When it comes to mean, ASUS always have customers in mind – the ASUS VG248QE features the ASUS-exclusive GamePlus (Patent-pending) hotkey with crosshair (aimpoint ...
Asus' prevailing 144Hz gaming monitor has dropped to $205
Amazon is on a cycle with monitor sales. Following up its recent sale of a Dell 4K monitor, the online retailer is selling one of the more popular gaming displays at a gigantic price: The Asus VG248QE is available right now for $205. This monitor first