Advanced HDMI zone switching (Zone 2), pre out, Zone 2 audio with processing
MusicCast wireless multi room audio compatible
Dolby Atmos and DTS:X surround sound processing (5.1.2-ch)
Built-in Wi-Fi, Bluetooth, AirPlay, Spotify Connect, Pandora, Rhapsody, SiriusXM Internet Radio, vTuner, PC / NAS
4K Ultra HD video upscaling with HDCP 2.2, HDR and BT.2020 support
Works with Alexa for voice control (Alexa device sold separately).
$899.00
Schedule of price changes
0,899.95,899.95,749.00,899.00,899.00,899.00,899.00,899.95,1199.95,899.95,899.95,899.95,899.00,899.00,899.00,899.00,899.95,899.95,899.95,899.95,1199.95,899.95,899.95,899.95,899.95,899.00,899.00,899.00,899.00,899.00
| | | |
| --- | --- | --- |
| Current price | $899.00 | 2018-07-19 |
| Minimum price | $749.00 | 2018-04-20 |
| Maximum price | $1199.95 | 2018-03-23 |
yamaha a 1060 review: Yamaha RX-A1040 Receiver Review - Reference Home Theater
For a few years, I've given Yamaha a bad rap. After a pair of reviews that didn't live up to what I expected, I decided that I wasn't going to review much from them. That all changed when I reviewed their CX-A5000 processor and found it to be wonderful. Then they impressed me with amazing virtual surround from a sound bar . And finally some wonderful sound from a $400 receiver . Yamaha is still making very good products, I just wasn't reviewing the right ones. After all these good experiences, I wanted to take a look at their RX-A1040 receiver as it features an ESS Sabre DAC, full 7.1 preouts for use with external amps, along with integrated WiFi and Spotify Connect.
yamaha rxa1060 review: Yamaha RX-A1060 - 2060 - 3060 Owners Thread | Page 11 | AVForums
Definitely worth a try regarding the earth on the subs. Had a similar issue with a Kef sub in my father in laws house, simply cut the plug and.
I'll give it a go with the earths disconnected and see what happens and then if it is earth leakage, I'll find a safe solution. Maybe a Furman Power Conditioner or similar. If not then I'll have to contact Monitor Audio. 2 subs just sound mega, even though they are still positioned front and rear and technically I should move them, then rerun YPAO. I'm really pleased with the Yammy and Emotiva combo with the MA Bronze speaker setup. The clarity, accuracy and soundstage is really all I had hoped for. It's less bass oriented than the Denon 7200 but dialling up the tone and bass control along with the sub trim in options brings the Yammy to Denon bass levels no problem and I would still say the Yamaha has more clarity and accuracy than the Denon when the bass is cranked up. The Yammy also runs far cooler than the Denon, the heat that came out of the vents of the Denon worried me. The Yamaha, even when being driven loud and hard is warm but not really hot like the Denon. That can only be a good thing for component life and reliability. Looking like I made the right choice moving into the Yamaha camp and if I can solve this one last issue with the subs I'll be more than happy. 3070 or 3060? No question that the 3060 at £1499 or less is excellent and it comes down to the few extra things on the 3070 and whether you need/want those and if they will really be worth £700 difference. I personally don't believe the 3070 is going to sound any better.
Yamaha RX A1060 Receiver
Unboxing of the Yamaha RX-A1060 AV receiver in the Aventage a candidate for. Dolby Atmos and DTS-X HDCP 2. 2 4K video upscaling Built in Wi-Fi, Bluetooth, AirPlay,.
Yamaha Aventage Blu-ray punter - Hands on
Out of the box, the BD-A1040 doesn't have the ultra-depressed weight associated with other Aventage gear or Oppo's players, but on paper, it's got all...
Assay: YAMAHA RX-A2060 AVENTAGE AV-Receiver / Vorstellung mit Dolby Atmos und DTS:X
heimkinoraum. de/av-receiver/nach-hersteller/yamaha/yamaha-rx-a2060-9-2-av-receiver-766 RX-A2060 exklusiv in der HEIMKINORAUM-Printing.
yamaha a 1060 review: Yamaha 1060 or Marantz 5011? | Audioholics Home Theater Forums
After getting some great feedback on my previous post. I have narrowed it down to 2 receivers. The Marantz 5011 or the Yamaha 1060. I have researched both, read dozens of posts and reviews for both, and listened to both side by side at Best Buy. Here are my thoughts. Marantz 5011. sounds very similar to the 1060. 90W. Slightly nicer remote. Horrible SMALL display. 11 lbs lighter (not sure if this is a good or bad thing!) The Best Buy salesman pushed this one (he owns it, so he may be biased). Yamaha 1060. similar sound, perhaps slightly better to my ear. 110W. MUCH nicer display (at least I can see it from 10 feet away unlike the Marantz). This is important to me since I often listen to Tuner or SONOS, so the TV is NOT on to show the volume. Slightly more expensive, but HEAVILY DISCOUNTED right now at local store ($200 lower than anywhere else). Seems to be slightly more future proof? I plan to have this 10+ years if possible. So I was wondering what folks thought of these 2 side by side. Any feedback is appreciated. Thanks in advance!
Yamaha AVENTAGE RX-A1050 Evaluation deutsch / Vergleich zu RX-A850
Der neue Yamaha RX-A1050 überzeugt auf ganzer Linie. Das geht los mit der Verarbeitung des hochwertigen Chassis-Aufbaus mit Fokus auf Minimierung von.
yamaha a 1060 review: Yamaha AVENTAGE RX-A1060 Specs - CNET
Apple AirPlay support, Audio Return Channel (ARC), YPAO with R.S.C. (Reflected Sound Control), Yamaha Parametric Room Acoustic Optimizer (YPAO), auto power off, compressed music enhancer, dual-zone capability, iPod/iPhone/iPad ready, multi-room audio output, on-screen display, smartphone remote controlled, web control, Bi-Amplifying, x. , Bluetooth audio streaming, Deep Color, MusicCast system, Pure Direct mode, Wi-Fi Direct, YPAO Volume, YPAO multi-point measurement
Yamaha Aventage RXA-1060 (Produce) - 7.2 Ch. Atmos/DTS-X/Musicast/4K ...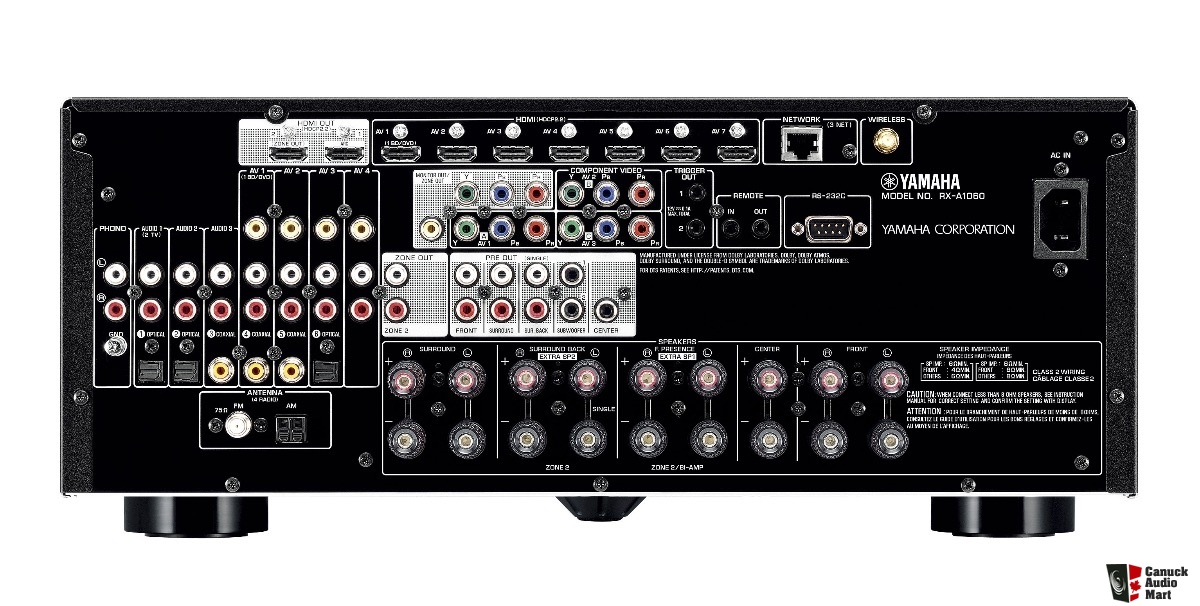 Yamaha BD-A1060 AVENTAGE Blu-ray-Sportswoman im Test
heimkinoraum. de/av-zuspieler/nach-hersteller/yamaha/yamaha-bd-a1060-blu-ray-contender-822 Beratung und Verkauf von Profis in Ihrer Nähe Der.
Amplitunery Yamaha z serii Aventage RX-A60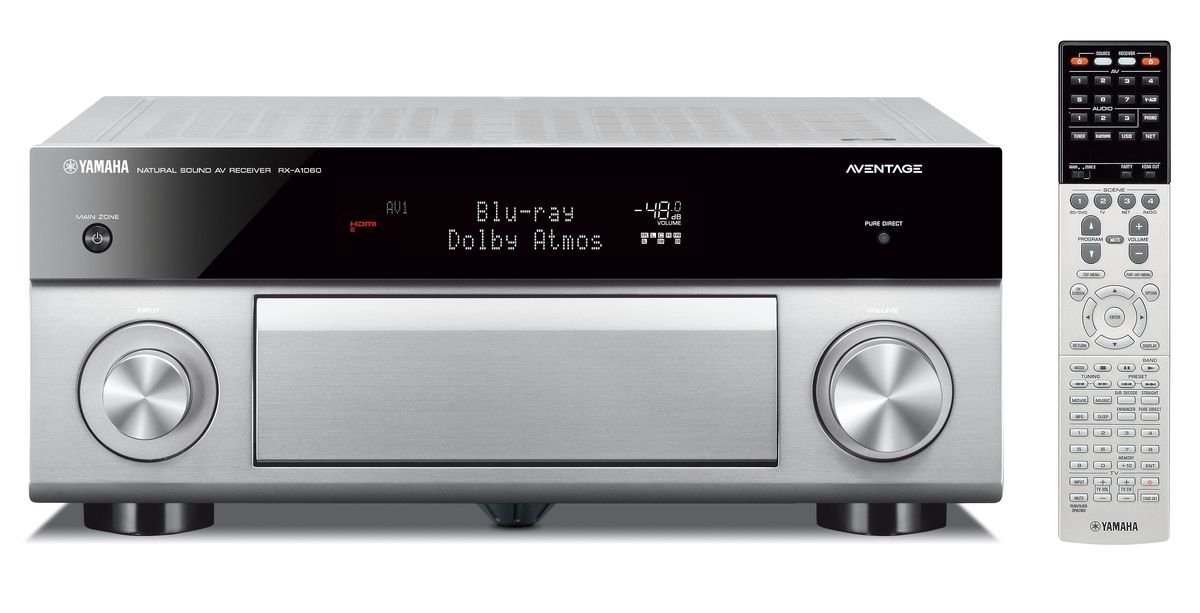 yamaha a 1060 review: Yamaha AVENTAGE RX-A1060BL 7.2-Channel Network A/V RX-A1060BL
Hello all. Looking for some advice. I am planning to replace my current Pioneer Elite VSX-21THX with one of the above mentioned Yamaha models. The
Enjoy immersive multi-channel sound with the Yamaha AVENTAGE RX-A1060BL 7.2-Channel Network A/V Receiver . It delivers up to 110W of power at 8 Ohms and features Dolby Atmos and DTS:X compatibility for object-based audio support. Built-in Bluetooth and AirPlay support allows the receiver to wirelessly stream music from compatible sources, such as smartphones and tablets, while Yamaha"s Compressed Music Enhancer works behind the scenes to deliver optimized sound quality. Onboard Wi-Fi and Ethernet connectivity allows the RX-A1060BL to access a variety of Internet-based music sources like Pandora, Spotify, and SiriusXM. It also supports DLNA content sharing when paired with your similarly equipped network-connected devices such as your computer. As an added convenience, you can download the free Yamaha AV Controller app to control the receiver from your Android or iOS devices. With eight HDMI inputs and two HDMI outputs, this receiver can act as a video switcher for your HD source components. It will pass through 3D and 4K signals and will upscale non-UHD signals to near-4K quality for enhanced viewing of lower-resolution sources when paired with a 4K display. The receiver also has a USB port for accessing media stored on USB flash drives. YPAO multipoint sound optimization will calibrate the receiver to your speakers and room setup for a tailored listening experience.
Tellingly Theatre > Amplificatori av > Integrati > Yamaha Rxa 1060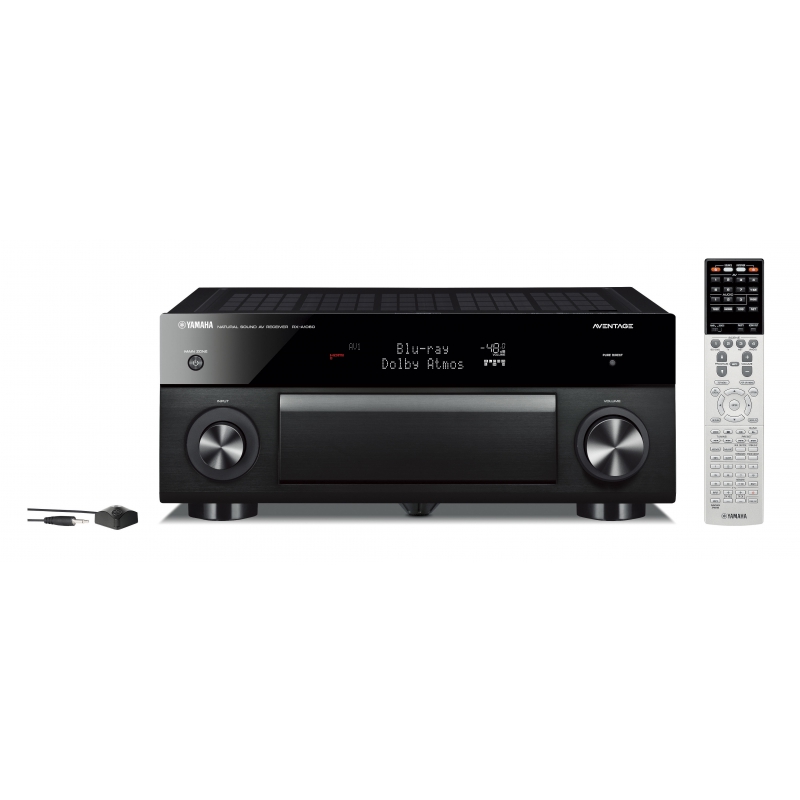 yamaha a 1060 review: Yamaha BD-A1060 Review |
View full Yamaha AVENTAGE RX-A1060 specs on CNET.
As a general recommendation, all the people who own a 4K television should invest their money on a good Blu-Ray disc player. Otherwise, they will not be able to experience all the benefits that are associated with the 4K TV. If you are looking for a compatible Blu-Ray disc player, Yamaha BD-A1060 is the best option available out there. Here is the quick Yamaha BD-A1060 review to explore latest model and see how it stands against is rivals.
yamaha a 1060 review: Yamaha rx-a860 or rx-a1060 - AVS Forum | Home Theater Discussions And Reviews
After getting some great feedback on my previous post.
That quote is in the Dynaudio owners" forum. Coincidentally, I will be using the Yamaha receiver to drive Dynaudio Emit M20 speakers. I auditioned the Golden Ear Aon 2, which was junk as compared to the Dynaudio. I don"t get all the rave reviews surrounding Golden Ear. The audio dealer (Overture Audio of Ann Arbor, MI) speculated that Sandy Gross tapes $1000 to each speaker.
yamaha aventage rx-a1050:
Yamaha Corporation of America sells products ONLY through authorized dealers . ONLY dealers authorized by Yamaha have committed to provide excellent pre-sale and post-sale customer service and to uphold Yamaha standards. And authorized Yamaha dealers are the ONLY retailers that can convey to you, the consumer, the Yamaha factory warranty. Purchasing from an authorized dealer is the only way you get Yamaha and a qualified dealer to support you in your use and enjoyment of your Yamaha® product.